Youth All-Nighter
Youth All-Nighter
August 11 - 12, 2017

Important: This event has already occurred.

7:00PM - 10:00AM
Eagle Ridge Bible Fellowship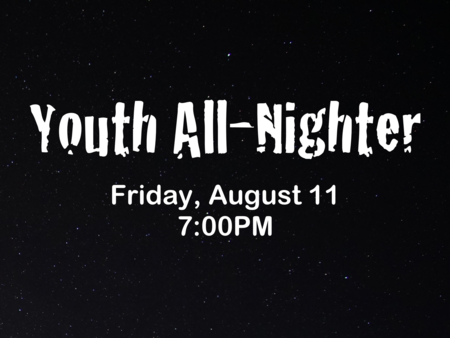 You read it correctly.......ALL-NIGHTER!
As most people are settling down for a long Friday night's slumber, we'll just be getting started. Board games, a late-night pizza dinner, ping-pong & Just Dance tournaments, dodgeball, basketball, church night games, movies, pancake breakfast and more!. It's sure to be hours worth of good friends, good food, and good fun. You don't want to miss out so mark it on your calendars!
WHO: All students between grades 6-12 are welcome! This includes our grade 5s heading into grade 6 this September!
WHAT (to bring):
Pillows and sleeping bags - optional but recommended so that you can get comfy for our movie marathon! We will have separate sleeping accommodations for girls and boys who would like to stay up late but not all night long.
Snacks - We will have snacks available but feel free to bring your favourites.
Medication - anything you take regularly.
$10 – this will cover the cost of your snacks, late-night pizza dinner and pancake breakfast.
FRIENDS - Bring your friends out to join in on the fun too!
WHEN: Drop off is at 7pm on Friday night and pick up is at 10am on Saturday morning.
WHERE: Meet in the Youth Room of Eagle Ridge Bible Fellowship
Please fill out a student activity release form and bring it by the church office before August 11th with your $10 payment. If we do not have your form in by that time, you will not be able to participate.
Please contact [email protected] regarding any further questions or concerns
Available Files to Download
To download, right-click the file and select "Save link as".
Ministry Student Ministries
Return to Events
---