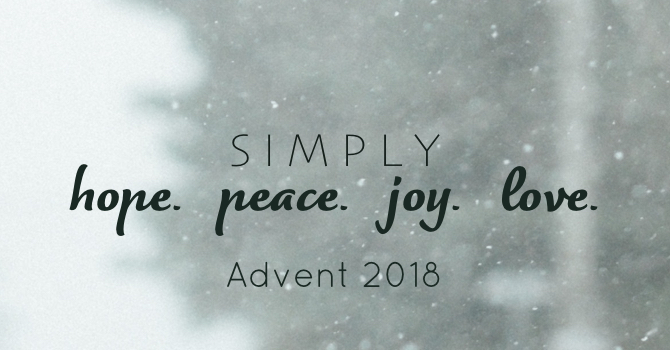 The four weeks leading up to Christmas are often a crazy, chaotic mess of obligations and shopping. Instead of Advent being a time set apart to prepare for the celebration of the birth of Jesus, Advent becomes an ominous ticking count-down clock that reminds us we have too much left to do.
This year, we want our Advent services to be a time where we make simple spaces for the sacred and the holy. May the breath of the Spirit into the quiet of our hearts renew our hope, our peace, our love and our joy. May our focus be on simply Jesus.

Each Sunday service during Advent we reflect on four advent themes of hope, peace, joy and love. Eagle Ridge Bible Fellowship has done this for several years now, and has included the lighting of the four candles that symbolize each Sunday. The fifth candle, the Christ candle, is lit on Christmas Eve to symbolize the arrival of the Emmanuel, God with Us.
For the ERBF 2018 Advent season, we have chosen to reflect on the four Advent themes of Simply Hope, Simply Peace, Simply Joy and Simply Love.